Welcome
During International Days and major international conferences there is a special opportunity to serve in the creation of a more unified and compassionate world.
As meditators we can symbolically stand together with all actively working in the spirit of the Charter of Compassion, and invoke the aid of the Forces of Light in support of these events.
Daily Reminder
Check out a daily reminder of these events to hold in the light. Share this daily reminder with others by including the app on your website.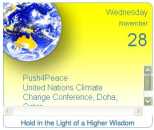 Sustainable Development Goals & Climate Change
These International Days and events reflect important themes in the mobilization of energies to:
End poverty, inequality and climate change by 2030 through practical actions to achieve the Sustainable Development Goals
engaging people of goodwill all over the world in a common movement.
2023 United Nations International Years
Silence at the United Nations
The Spiritual Caucus at the United Nations gathers in the vicinity of UN Headquarters in New York (September - June) on the third Thursday every month for 30 minutes of silence followed by 30 minutes of dialogue, sharing insights and exploring ways to use an inner focus in service of the work of the UN.
Please link in from wherever you are. More information at: http://www.spiritualcaucusun.org/

In February the Caucus will meet subjectively on February 16, 2.00 - 3.15pm. The physical meeting has been cancelled as a precautionary measure due to the Coronavirus. All are invited to link together for 30 minutes in mind and heart with a particular focus on supporting the UN during this difficult time.





2023 Theme: Revive and restore degraded wetlands
Wetlands are critical to human and planet life. Directly or indirectly, they provide almost all of the world's consumption of freshwater. More than one billion people depend on them for a living and 40 per cent of the world's species live and breed in wetlands. They are a vital source for food, raw materials, genetic resources for medicines, and hydropower; they mitigate floods, protect coastlines and build community resilience to disasters, and they play an important role in transport, tourism and the cultural and spiritual well-being of people.
Wetlands are also essential to efforts to regulate the global climate. Peatlands store twice as much carbon as the world's forests despite accounting for just three per cent of the world's land surface, with salt marshes, sea grass beds and mangroves also carbon-dense ecosystems. However, wetlands produce 20-25 per cent of global methane emissions and rising temperatures from climate change are expected to increase greenhouse gases from wetlands, particularly in permafrost regions.
On February 2,1971 an intergovernmental treaty, The Ramsar Convention, was adopted in the Iranian city of Ramsar. It commits member countries to maintain the ecological character of their Wetlands of International Importance and to plan for the "wise use", or sustainable use, of all of the wetlands in their territories. It is the only environmental treaty governing a particular ecosystem.
www.worldwetlandsday.org


















The United Nations World Day of Social Justice celebrates the international agreements reached at the World Summit on Social Development in Copenhagen, 1995.
On this Day governments are called upon to undertake concrete activities towards the goals of poverty eradication, full employment and social integration.
The World Summit in 1995 recognised that social development aims at social justice, solidarity, harmony and equality within and among countries and social justice, equality and equity constitute the fundamental values of all societies.
http://www.un.org/en/events/


We live in One World, and are all part of One Life. Yet within this unified whole each individual unit is precious and significant. It is essential that cultural diversity be fostered to maintain richness and variety in the human community. At the heart of culture is language.
Each individual's mother language plays a vital role in their health and development: "It is the language of childhood, of intimate family experience and of our social relations". Yet in a world of increasing globalization small language groups find it increasingly difficult to survive.
UNESCO estimates that about half of the approximately 6,000 languages spoken in the world are under threat.
International Mother Language Day promotes linguistic and cultural diversity and multi-lingualism. The date represents the day in 1952 when students demonstrating for recognition of their language, Bangla, as one of the two national languages of the then Pakistan, were shot and killed by police in Dhaka, the capital of what is now Bangladesh. The Day supports Target 6 of Goal 4 of the SDGs: "Ensure that all youth and a substantial proportion of adults, both men and women, achieve literacy and numeracy."
www.un.org
www.unesco.org/