Welcome
During International Days and major international conferences there is a special opportunity to serve in the creation of right human relations. They help us to focus our purposeful thought and action in ways that highlight diversity and unity in an interdependent world.
As meditators we can symbolically stand together with all actively working in the spirit of the one humanity and the one life, and invoke the aid of the Forces of Light in support of these events.
Daily Reminder
Check out a daily reminder of these events to hold in the light. Share this daily reminder with others by including the app on your website.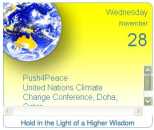 Sustainable Development Goals & Climate Change
These International Days and events reflect important themes in the mobilization of energies to:
Build right relations in the world by addressing serious problems of poverty, inequality and climate change through practical actions to achieve the Sustainable Development Goals by 2030
engaging people of goodwill all over the world in a common movement.
2022 United Nations International Years
Silence at the United Nations
The Spiritual Caucus at the United Nations gathers in the vicinity of UN Headquarters in New York (September - June) on the third Thursday every month for 30 minutes of silence followed by 30 minutes of dialogue, sharing insights and exploring ways to use an inner focus in service of the work of the UN.
Please link in from wherever you are. More information at: http://www.spiritualcaucusun.org/

In October the physical meeting on Thursday, October 20, has been cancelled due to the Coronavirus. All are invited to link together in mind and heart on this day from 1.30 - 2.00 pm with a particular focus on supporting the UN during this difficult time.







To mark the birthday of Mahatma Gandhi, October 2nd is observed by the UN and around the world as an occasion to "disseminate the message of non-violence, including through education and public awareness". The General Assembly resolution reaffirms "the universal relevance of the principle of non-violence" and the desire "to secure a culture of peace, tolerance, understanding and non-violence". more

www.un.org
www.facebook.com/nonviolenceday






World Animal Day, observed on the Feast Day of St Francis of Assisi, was first celebrated in 1931. Since then it has become a day for remembering and paying tribute to all animals and the people who love and respect them. The Day aims to raise the status of animals in order to improve welfare standards around the globe. Events are held around the world by peoples of diverse faiths and cultures.
www.worldanimalday.org.uk/




Theme 2022: The transformation of education begins with teachers
Think about the role of teachers in the transition into a new era. Who are the teachers? What is required of those who teach the children and young people?
Created by UNESCO, World Teachers Day celebrates teachers worldwide.This year, celebrations will address the commitments and calls for action made at the Transforming Education Summit, in September 2022, and analyse the implications they have for teachers and teaching.
www.unesco.org/en/


Theme 2022: Why it Matters
Organised by the Utah Valley University in partnership with the Academic Impact Initiative of the UN Department of Global Communications, the conference is part of the Decade of Action to Deliver the Global Goals. Academic institutions have a crucial role to play as the next ten years will determine the success of the initiatives that aim at ending poverty, protect the planet, and ensure human rights and prosperous and fulfilling lives for all by 2030.... Academic institutions are uniquely qualified to bring to the table discussions and approaches that can be incorporated into the action plans in other social sectors.
uvu.edu/global/


2022 theme: Light Pollution
World Migratory Bird Day is an annual awareness-raising campaign by the UN Environment Program highlighting the need for the protection of migratory birds and their habitats. On the second Saturday each May and October, people around the world take action and organise public events such as bird festivals, education programmes and birdwatching excursions to celebrate World Migratory Bird Day.
Artificial light is increasing globally by at least 2 per cent per year and it is known to adversely affect many bird species. Light pollution is a significant threat to migratory birds, causing disorientation when they fly at night, leading to collisions with buildings, perturbing their internal clocks, or interfering with their ability to undertake long-distance migrations.
www.worldmigratorybirdday.org










2022 theme: Early Warning
Disaster Risk Reduction Day is an opportunity to acknowledge the progress being made toward preventing and reducing disaster risk and losses in lives, livelihoods, economies and basic infrastructure in line with the Sendai Framework for Disaster Risk Reduction 2015-2030, adopted in March 2015.
iddrr.undrr.org
www.un.org/en/events/


First celebrated by the UN in 2008, this Day is yet another sign of the major focus on women and gender issues in global affairs. The Day has been celebrated by civil society around the world since the Beijing Women's Conference in 1995.
The Day seeks to raise awareness of rural women's participation in the development process with a focus on their needs and rights, highlighting their contributions to sustainable development, household food security, safeguarding traditional knowledge, biodiversity, and peacebuilding and so much more.
www.woman.ch
www.un.org/
www.unwomen.org














Disarmament Week has been observed by the United Nations since 1978. Member States are invited to highlight the dangers of the arms race, promote recognition of the need to stop the arms race, and increase public understanding of the urgent tasks of disarmament. NGOs organize a range of events seeking to raise public opinion and pressurize governments to act on disarmament.
www.un.org/
www.reachingcriticalwill.org
ngodisarm.org